How the City spends money
The City is responsible for delivering services to citizens and for maintaining infrastructure that is used every day. The money received through sources like property taxes are spent on these services and infrastructure.
The City's services are organized into different areas. Each year, these areas present their proposed budget and objectives to the Budget Committee for review and approval.
The 2019 budget was spent in the following ways:
In addition to providing services, the City is responsible for maintaining infrastructure. Infrastructure includes equipment and structures owned by the City and used by everyone.
Infrastructure includes roads, bridges, stormwater drains and sewers, sidewalks, streetlights, traffic signals, community centres, libraries, fire stations, pools, arenas, parks, trails, playground equipment, theatres, buses and bus shelters.
Infrastructure must be maintained in order to avoid excessive future repair costs, put safety first and make sure that Mississauga continues to be a great place to live, play and do business.
In total, the City owns about 60% of the total infrastructure in Mississauga, which is worth about $9.9 billion distributed as follows:
Roads – $2.8 billion
Stormwater – $2.2 billion
Buildings – $1.9 billion
Bridges – $896 million
Street and traffic lights – $491 million
Walking and cycling – $454 million
Equipment – $349 million
Parks and open spaces – $346 million
Transit – $287 million
Vehicles – $71 million
Culture – $45 million
Other – $19 million
How well are we maintaining our infrastructure?
The good news is Mississauga's infrastructure is in pretty good shape. However, it is taking more money to keep it that way. Here's how the condition of our roads, bridges and buildings looks: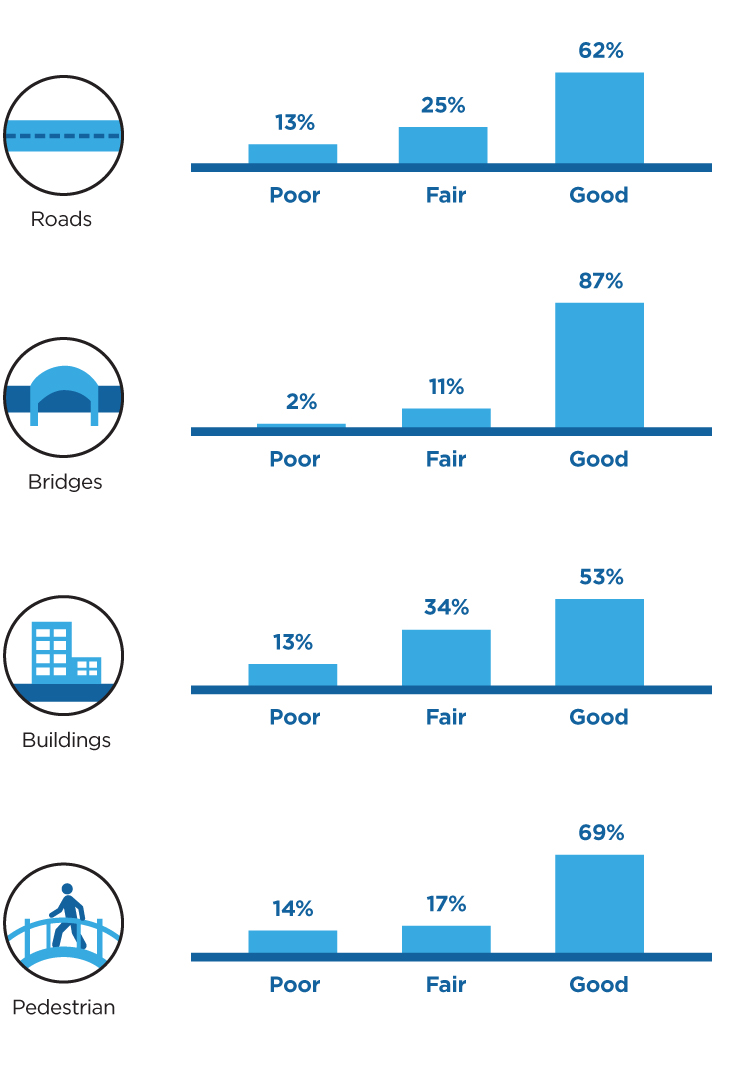 Funding and maintaining infrastructure
The City's infrastructure is funded from property taxes and other sources like gas taxes or development charges. Ontario's Development Charges Act has a limit on the types of infrastructure that can be funded through development charges. When infrastructure needs repairs or maintenance, the City funds it through property taxes or other sources.
The City is facing challenges to fund the maintenance of infrastructure over the coming years due to something called the 'infrastructure gap'.
The City's infrastructure gap
The City's infrastructure is worth $9.9 billion. The depreciation expense represents the minimum amount that should be put aside each year to replace infrastructure in the future.
Depreciation based on historical costs would be $135 million, making the gap between what is funded and what is needed $31 million. Depreciation adjusted for estimated replacement costs would be $378 million, making the real infrastructure gap $274 million.
Despite help from federal and provincial government, we still need to continue to apply the 2% infrastructure and debt repayment levy to manage our infrastructure.
New costs facing the City
Even with the detailed framework of our business plan and budget, we need to be prepared for any unexpected issues that may arise, such as:
Sudden growth in GTA communities that creates more traffic and leads to increasing need for transit options
With more people using transit, the demand is increasing. Thus requiring additional services at extra cost
The unpredictable energy market and fluctuating costs sometimes make it difficult to predict how much money the City needs to spend
The Emerald Ash Borer is an invasive insect that is threatening to destroy the City's tree canopy and requires special taxation to manage the issue.
Downtown and waterfront expansion developments are still in the planning stages and require an investment of public funds
Climate change and weather events can add additional pressures to the City's stormwater management. A stormwater charge was approved for 2016. See how your tax dollars contribute to stormwater management.